Professionally installed rain gutters and downspouts for your home or business. Call us for your FREE gutter estimate.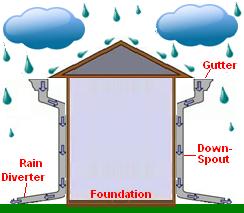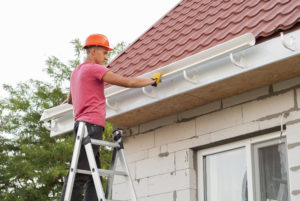 Affordable Roofing a trusted name if Roofing also does Gutter Cleaning, Repair, Replacement and Installation.
Affordable Roofing provides the most highly trained professionals that will take roofline, landscaping, local rainfall amounts, overall appearance of your property and personal preference into consideration when we plan and install the gutters and downspouts to effectively and discreetly provide proper drainage and rain runoff from your roof.
Having rain gutters and downspouts not only help you or your guest from being soaked when you are entering or exiting your property but when properly installed can direct rain water away from the roof and building foundation. Keeping the water away from the building and structure will help prevent structural damage and foundation erosion.
Affordable Roofing offers sectional gutters and seamless gutters that are custom fabricated aluminum in the traditional "K" style in a baked enamel or mill (bare) finish or a mill (bare) finish copper. Also, gutter and home accessories such as Rain Barrels and Gutter Guards and Leaf Screens are available. Ask us for details.
No matter your budget we have a gutter and rain diverter system for you. If you don't see the type or color of gutter you are looking, fear not, we offer more then what is on the site, Contact Us. The website has our standard roofing materials most customers use.