Affordable Roofing by John Cadwell, Inc offers going green solar power roof and attic ventilation solutions and installations.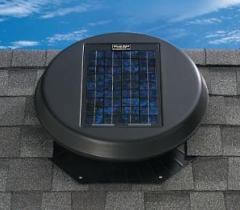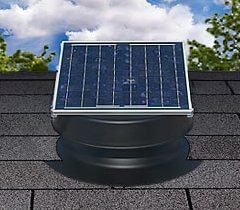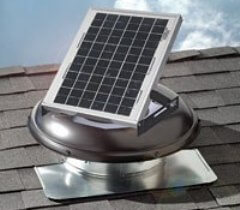 'Go Green' for your home or business – Roof mounted solar exhaust fans can be installed on Flat Roofs and Sloped Roofs.
What is Solar Energy?  The radiant energy emitted by the Sun. Energy derived from the Sun's radiation.
Solar Powered Attic Vent Fans are a smart alternative to traditional roofing vents. Roof mounted solar attic vents collect power from the direct sun to convert into electricity, photovoltaic cells, which then powers the motor inside without using electricity. Saving energy and money – better for your pocket and the environment.
Benefits
-Rust resistant
-Warranties up to 25 years*.
-NO electrician required
-Quiet operation
-They operate on solar energy
-No harmful pollutants
-Operated without fuel
-Possible Tax Credit Available
Many factors can affect the amount of attic ventilation a home needs. Affordable Roofing will determine the correct size unit or units needed for your specific installation using our solar power calculator.
Don't call a solar company to install a roofing vent call us for your solar power NO COST estimate on having your garage, shed, or whole house sun powered attic fan installed. Additional solar roofing products available.