Did you know that the #1 problem not detected during a home inspection is related to the roof and water damage?
Home inspections or Roof Reports & Exams don't come with a roofing Leak Free Roof Guarantee but our elite Roofing Certifications do!
We understand how hard it is to find a roofing contractor who can provide timely, consistent, and dependable inspections. Furthermore, they probably do not have the formal service agreements required to deliver quality results at an affordable price.
Affordable Roofing by John Cadwell, Inc's elite Roof Certification is a formal one-year leak free roof warranty for the entire roof.
Before a Roof Certification is completed we perform a detailed roof inspection of the condition of the roof covering. If preventative maintenance and roof repairs are indicated, they will be performed before the roof certificate is issued. As a result, the likelihood of leaks is virtually eliminated. In the unlikely event of a roof leak caused by normal wear and tear during the next year we will make repairs to stop the leak for the entire roof*.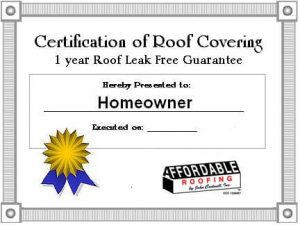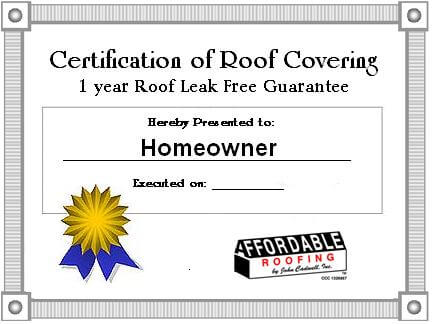 Affordable Roofing Certifications; Providing Peace of Mind to Homeowners and Professionals.
Our elite Roof Certifications are not available for Commercial or Industrial Buildings. However, Roof Maintenance Agreements are available for Commercial and Industrial Building.
To find out if a Roof Certification is for you; Contact Us today, we would be happy to hear from you.
*See Actual Agreement for Details.