As with any investment, your roof needs to be monitored and maintained to ensure peak performance. The Affordable Roofing
Maintenance Program is a long term preventative roof management plan that can help care for your roof and protect your investment.
The Roof Maintenance Program can help extend the life of your roof and save you money. Our goal with this roofing service program is to help you protect the roof of your commercial or home property from costly damage by identifying and eliminating small problems before they become expensive.
Enjoy the peace of mind with a Affordable Roofing – Roof Maintenance Program which includes a priority response to any of your roofing problems.  In event of sudden water intrusion you are assured of priority attention from a qualified company that knows your roof.
The graph below is comparison of the cost of two roofs over time: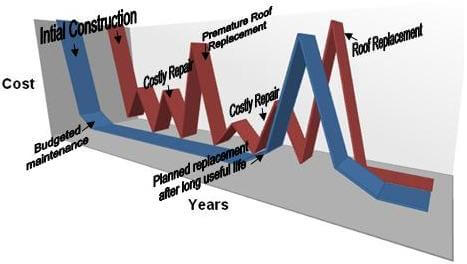 > The RED line represents roofing expenditures over time on a typical roof that is not regularly maintained. Notice the costly unexpected roof repairs and the roof replacement much too early.
> The BLUE line represents roofing expenditures over time on a typical roof that is regularly maintained. Notice the steady predictable costs and the planned replacement after a long useful life.

Just as you maintain your car; proactive maintenance is essential to achieve maximum life expectancy from your roof.
Learn more and call Affordable Roofing, a superior roofing company, for your No Cost Quote for a Roof Maintenance Program.