We are so confident that we offer the best price for roofing Affordable Roofing by John Cadwell, Inc. guarantees we have the lowest price on any roof replacement, so we will beat or match the price of any other Orlando area roofing contractor offering the same level of roof materials and installation.
This means, to qualify for our Price Match Guarantee program:
Competitor must…
>  Be a Florida Licensed Certified Roofing Contractor;
>  Competitor must an Accredited Better Business Bureau member with a rating equal to or higher then Affordable Roofing by John Cadwell, Inc
>  Be a local business, established no less than five years ago and can be verified through Florida Department of Corporations website; and
>  Carrying full insurance coverage to protect you against potential liability, proof of insurance or contractor affidavit required may be required.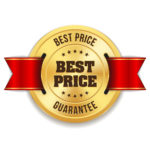 Competitor estimate must…
>  Have contractors CCC license number listed on it;
>  Have been done within 14 days prior to our estimate or 7 days after our estimate;
>  Include material and labor in detail;
>  Be provided for verification and must be original, no copies accepted;
>  Be a complete roof replacement of the roofing system and roofing cost must be all inclusive including replacement of damaged wood decking, building permits, court recordings, etc;
>  Have the same length and type of Labor Warranty and the Labor Warranty must be in writing;
>  List the same style and warranty with equal value of roof covering;
>  List the same type underlayment; and
>  Include the installation of the proper amount of ventilation and meet all the requirements to validate your roofing shingle manufacturer's warranty.
These are the steps for what it takes to offer the Price Match Guarantee we want our competitor to be as qualified as us and use equal valued roofing materials and installation. Affordable Roofing by John Cadwell, Inc. guarantees we are the best price Orlando roofing contractor meeting these requirements. To learn more about the best value on roofing in Orlando, FL call Affordable Roofing by John Cadwell, Inc. today.
If you get a lower bid or find the best price on the same products from another licensed and insured, professional local roofing company that has all the qualifications listed above, we will meet or beat their roofing price by up to $100.00, price match or beat must be submitted to us prior to completing our Contract Agreement. Submit proposals to our sales team for comparison roofing cost to meet or beat there price. Affordable Roofing reserves the right to cancel or modify program at any time.