Roof Payment Options
Disasters can happen unexpectedly. For that reason, Affordable Roofing by John Cadwell, Inc. wants to work with you to help find options within your roof budget. We are committed to your roofing experience. Offering all types of payment options including roof financing – see below.
Over time roof damage can become more than just a leak. As a result, unattended roofing problems can lead to additional roofing and interior expenses. Therefore, having roof payment options for your roofing needs are essential for the protection of your home, structure, and safety.
Affordable Roofing by John Cadwell, Inc. offers several roof payment options and financing to assist with keeping your roofing project affordable.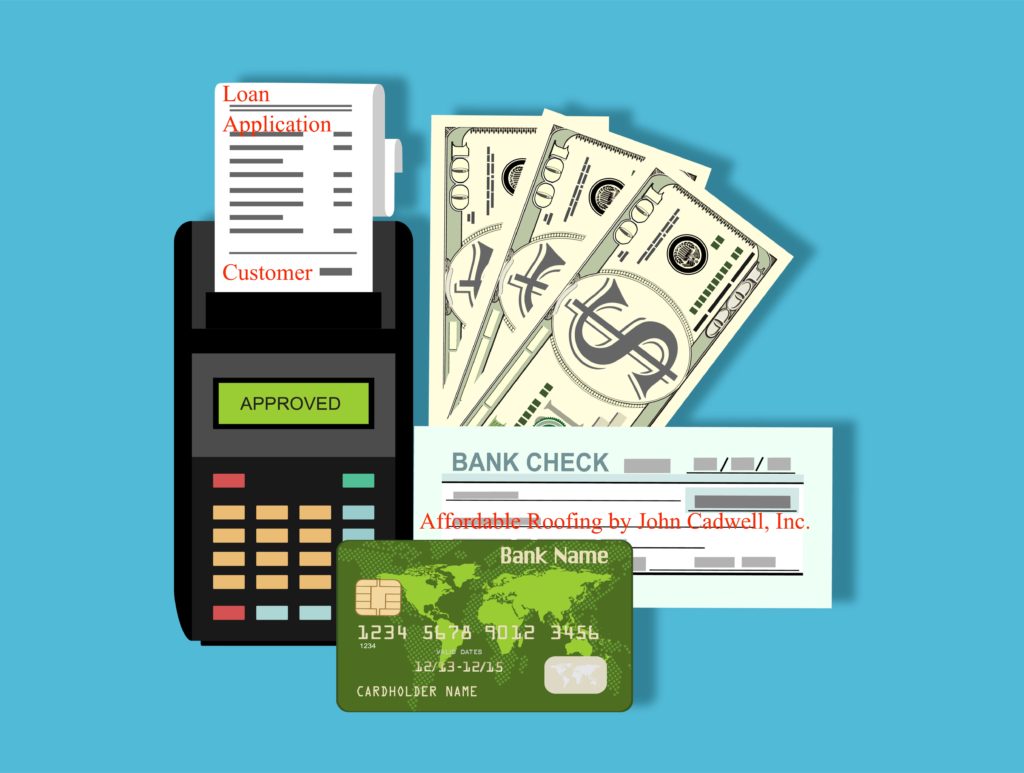 Cash – All Payments must be made in U.S. dollars.
Debit Cards – Visa Check and Debit Cards from all US Banks
Credit Cards – We accept MasterCard, Visa, Discover, and AMEX for all Roof Repairs, Emergency Tarping, and Roof Exams plus a $15 convenience fee, if paid online.
We do not except credit card payment for Roof Replacement, Roof Over, Roof Restoration, and New Construction contracts.
PayPal – Currently only available for purchases of Roof Report Inspections and Wind Mitigation Inspections online orders only.
Checks* – Personal Checks, Business Checks, Certified Checks, Credit Card Checks. We pursue returned checks according to Florida law, F.S. 68.065
Financing – Several options provided below.
Payment Policies
Payments and Finance Charges – As per contract, see actual contract for details.
Security Policy – Your payment and personal information safety is our top priority. Our Secure Sockets Layer (SSL) software is the industry standard and among the most quality of software's available today for secure commerce transactions. It encrypts all of your personal information, including credit card number, name, and address, so that it cannot be read over the internet.
Refund Policy – Refunds are not applicable under any circumstances.
Insurance Deductibles and Discounts Policy – Affordable Roofing by John Cadwell, Inc does not allow for any coupon, discounts, or waivers of insurance deductibles  per Florida Law. Florida Statute 817.234 False and Fraudulent Insurance Claims (7)(d) A contractor, or a person acting on behalf of a contractor, may not knowingly or willfully and with intent to injure, defraud, or deceive, pay, waive, or rebate all or part of an insurance deductible applicable to payment to the contractor, or a person acting on behalf of a contractor, for repairs to property covered by a property insurance policy. A person who violates this commits a third degree felony, punishable as provided in s. 775.082, s. 775.083, or s. 775.084. We will not participate in fraudulent insurance activity.
Affordable Roofing by John Cadwell, Inc. provides this online form application directly to the Bank Financing Company. There is no obligation to do this, and Affordable Roofing by John Cadwell, Inc. does not receive any type of commission or funds of any kind if you choose to use the Bank-Financing company.