Roof Payment Options
Disasters can happen unexpectedly. For that reason, Affordable Roofing by John Cadwell, Inc. wants to work with you to help find options within your roof budget. We are committed to your roofing experience.
Over time roof damage can become more than just a leak. Unattended roofing problems can lead to additional roofing and interior expenses. Therefore, having roof payment options for your roofing needs are essential for the protection of your home, structure, and safety.
Affordable Roofing by John Cadwell, Inc. offers several roof payment options and financing to assist with keeping your roofing project affordable.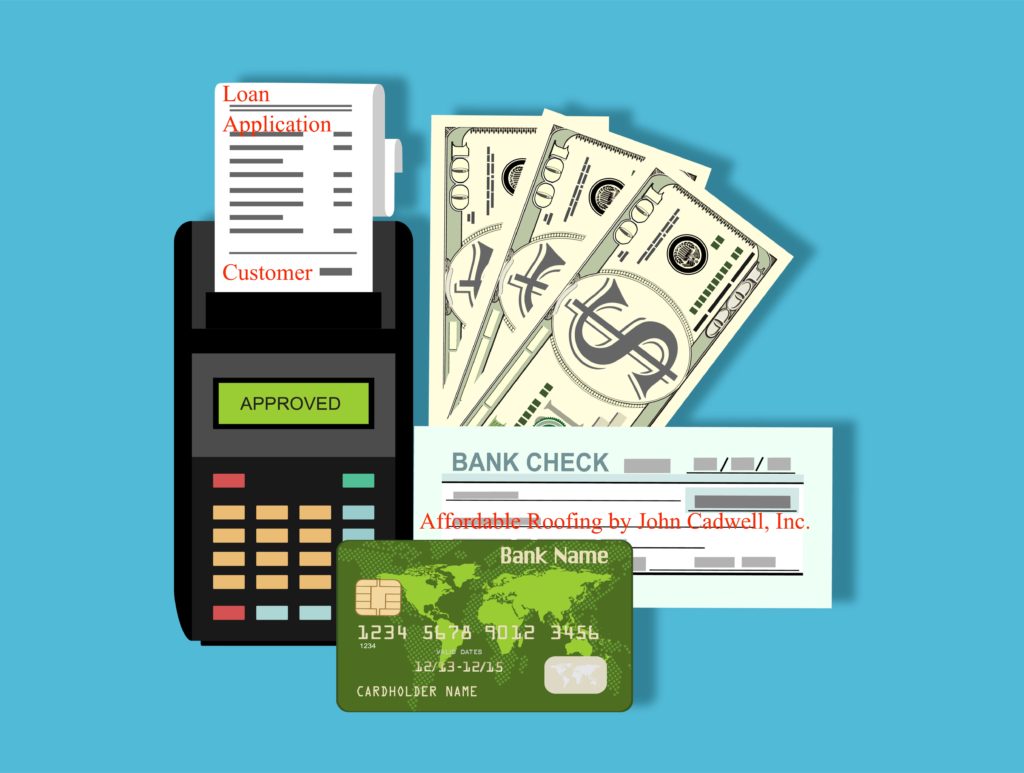 Cash – All Payments must be made in U.S. dollars.
Debit Cards – Visa Check and Debit Cards from all US Banks
Credit Cards – We accept the MasterCard, Visa, Discover, and AMEX for all materials and services. We do not except credit card payment for Roof Replacement or New Construction contracts.
PayPal – Currently only available for purchases of Roof Report Inspections and Wind Mitigation Inspections online orders only.
Checks* – Personal Checks, Business Checks, Certified Checks, Credit Card Checks. We pursue returned checks according to Florida law, F.S. 68.065
Financing – See below.
Roof Payment Plans – Traditional Financing
To help with your roof replacement cost we offer a non-equity based home loan. Intended for general home improvements and roof replacement financing for your new roof.
>  No equity or appraisal required
>  100% up-front funding
>  No prepayment penalties
>  Flexible loan terms up to 20 years
>  Fixed rates
>  Interest may be tax deductible (consult your tax advisor)
>  Money is disbursed before to homeowner prior to start of work
>  Secured and unsecured loans available
>  Lien will be placed against the property, lien will be in first or second position.
Get approval by end of day. 3rd-Party Finance company will reply to your application with details.
Affordable Roofing by John Cadwell, Inc. provides this online form application directly to the Bank Financing Company. There is no obligation to do this, and Affordable Roofing by John Cadwell, Inc. does not receive any type of commission or funds of any kind if you choose to use the Bank-Financing company.