Learn more about the Roofing Process.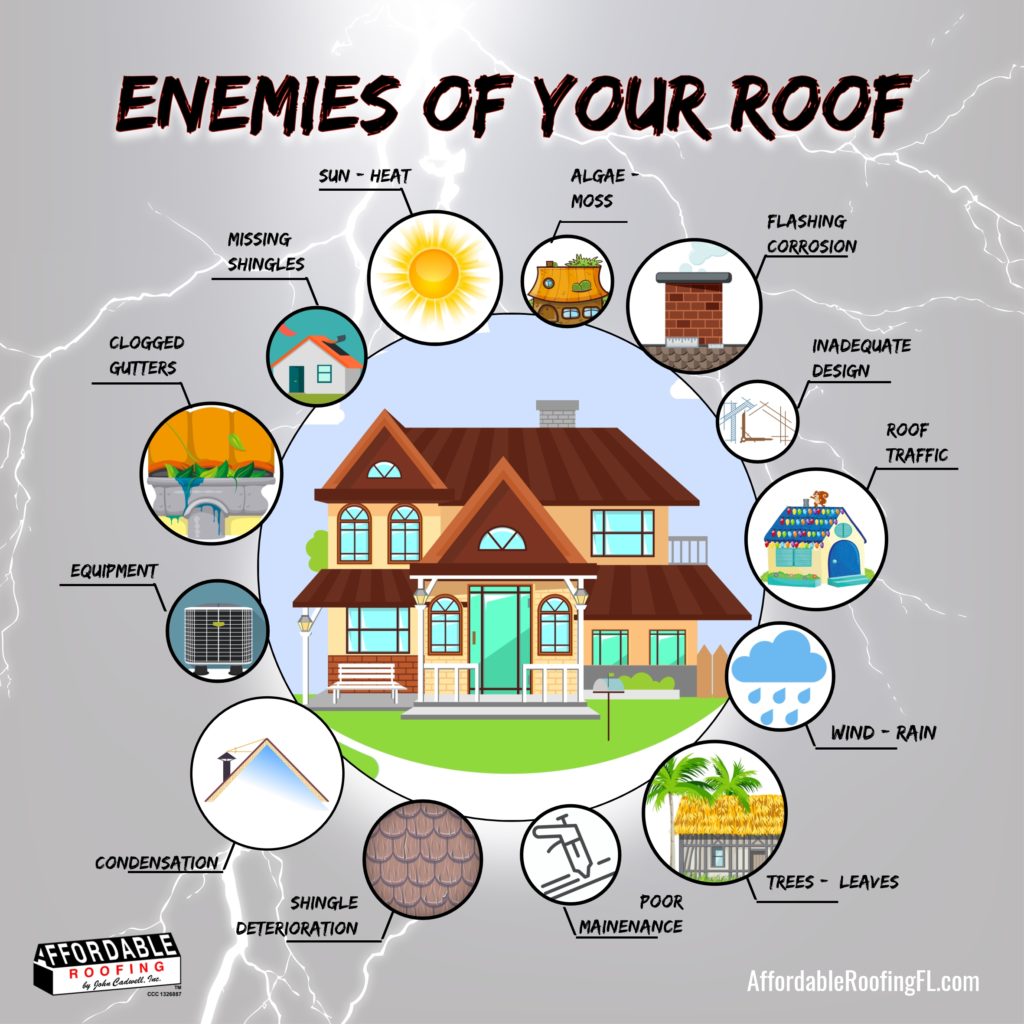 Sun/Heat - Ultraviolet rays and heat can cause roofing materials to become dry and brittle and deteriorate over time. Areas of the greatest concerns would be on the south and west side of the building where deterioration can occur faster.
Algae/Moss - Moss can grow on moist shingles and shakes. Algae also can grow in shaded, damp areas. Once it grows, moss or algae holds even more moisture to a roof system's surface, causing rot and deterioration in addition to a greenish-black stain. In addition, moss roots also can work their way into a wood deck and structure. Trees and shrubs should be trimmed away from homes and buildings to eliminate damp, shaded areas.
Flashing Corrosion - Many apparent roof leaks really are flashing leaks. Without good tight flashings around chimneys, vents, skylights and wall/roof junctions, water can enter a home or building and cause damage to walls, ceilings, insulation and electrical systems. Flashings should be checked as part of a biannual roof inspection maintence program.
Inadequate Design - Although the roof design may be beautiful it does not mean it is functional. Troublesome and costly roofing problems are often the result of faulty initial design of the roof system. Water should always flow easily away from the roofing system. All downspouts should be diverted away from all roofs. Standing/Ponding water for any amount of time will without doubt cause damage. Make sure that your roof is always designed properly.
Roof Traffic - Squirrels have been known to cause severe damage to roofs along with other rodents and birds. We also have noticed that even though Christmas lights are very attractive, we never recommend putting them on your roof, it is important to keep the roof clear of all types of items. If you notice a problem with your roof we recommend you contact Affordable Roofing by John Cadwell, Inc., do not attempt to take care of it yourself.
Wind/Rain - High winds can lift shingles' edges or other roofing materials and force water and debris underneath them. Extremely high winds can cause extensive damage. Once water gets underneath shingles, shakes or other roofing materials, it can work its way to the roof deck and cause the roof structure to rot. Extra moisture encourages mildew, mold and rot elsewhere in a house.
Trees/Leaves - Tree branches touching a roof will scratch and gouge roofing materials when the branches are blown by the wind. Falling branches from overhanging trees can damage, or even puncture, shingles and other roofing materials. Leaves on a roof system's surface retain moisture and cause rot, and leaves in gutters can prevent drainage.
Poor maintenance - Roofs all need maintenance just like a car. Small isolated problems can cause your roof to have a shorter life span. Regular inspections can add to the life span of your roof. Problems left undetected or ignored will over time cause extensive and expensive repairs or even replacement. Recaulking and resealing yearly is also a key part of maintenance.
Shingle Deterioration - When shingles are old and worn out, they curl, split and lose their waterproofing effectiveness. Weakened shingles easily are blown off, torn or lifted by wind gusts. The result is structural rot and interior damage. A deteriorated roof system only gets worse with time-it should be replaced as soon as possible.
Condensation/Improper Ventilation - Condensation can result from the build-up of relatively warm, moisture-laden air. Moisture in a poorly ventilated attic promotes decay of wood sheathing and rafters, possibly destroying a roof structure. Enough attic ventilation can be achieved by installing larger or additional vents and will help alleviate problems because the attic air temperature will be closer to the outside air temperature.
Equipment - A/C units and other kinds of equipment that cause a vibration on roofs result in premature failure of roofing systems. All equipment should be maintained on a regular basis.
Clogged Gutters - Don't allow water to flow from roof as designed. Regular cleanings help ensure proper waterflow in gutters.
Missing or Damaged Shingles - The key to a roof system's effectiveness is complete protection. When shingles are missing or torn off, a roof structure then the building's interior become vulnerable to water damage and rot. Missing or loose shingles should be replaced as soon as possible.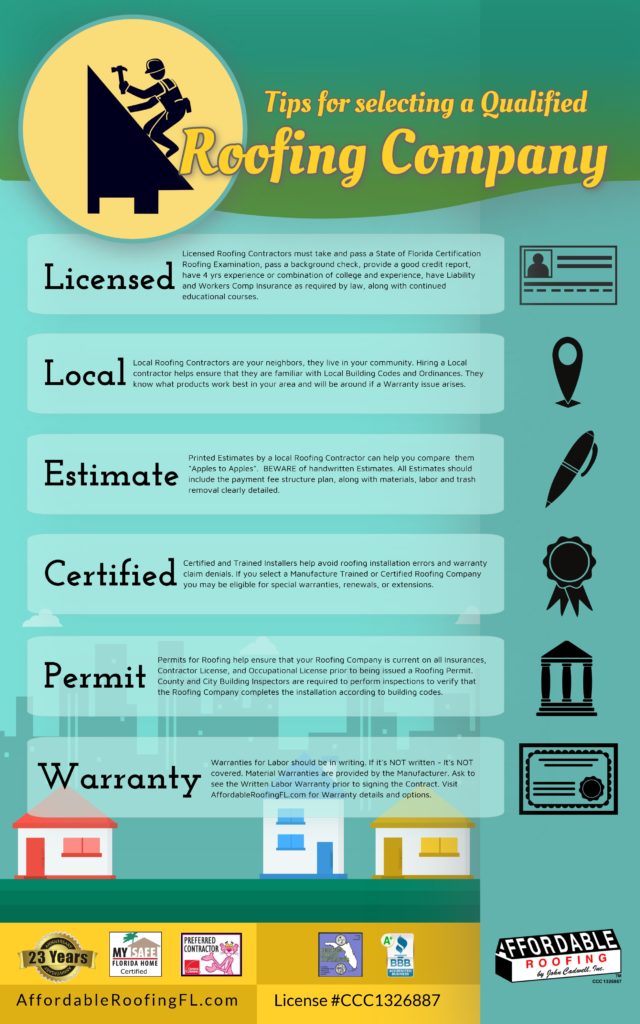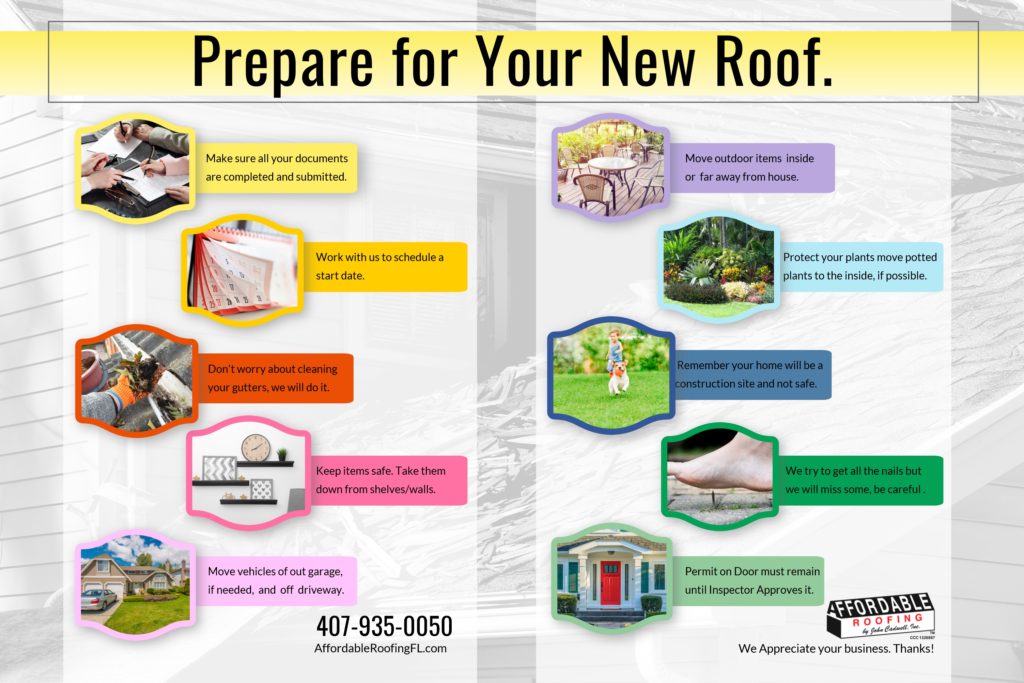 Select your material and color options, complete your contract and other required documents including your Notice of Commencement are key parts of starting your job. Your contractor is limited by how much they can do without you. Cooperation is the key.
We first start with a time frame. Once we confirm all your paperwork is in good order and a date for all materials to be delivered we will work with you on your start date. Be mindful that roofing schedules can be unpredictable. Weather, material availability, labor shortage, and other unforeseen things can move your schedule.
No need to worry about cleaning your gutters. Getting a new roof is messy and the gutter will collect lots of debris, but we will do our best to get them all cleaned out upon completion of the work.
Tearing off a roof and replacing it is an intense physical process. Your home will shake, the noise will be loud. If you want to protect your items from possible damage it is important to take them down from walls and shelves to secure them.
Vehicles need to be removed from the garage, carport, and driveway and relocated away from the home during the material delivery, dumpster drop-off and while the roofing job is in progress.
Patio furniture, BBQ grills, birdhouses, etc. should be moved indoors or at least 20 ft from the house prior to material delivery and until job is complete to help prevent them from becoming damaged from falling debris.
We will try our best to cover existing landscaping upon your request but any potted plants that can be moved inside is recommended.
It is important to remember that your property will be a dangerous area, be extra cautious if children and animals are in the yard, we highly recommend refraining from using the property until the job is complete.
We work hard to get all the nails, staples, and debris from the property. However, it is very likely that you will have some debris left behind. Be extremely careful around your property during the next several weeks. We recommend wearing shoes with a hard sole to help prevent injuries.
You MUST keep the Permit on the Door until the County or City Inspector has Approved it. Removing the Permit prior to the Final Approval will result in additional fees and expenses, as per your contract.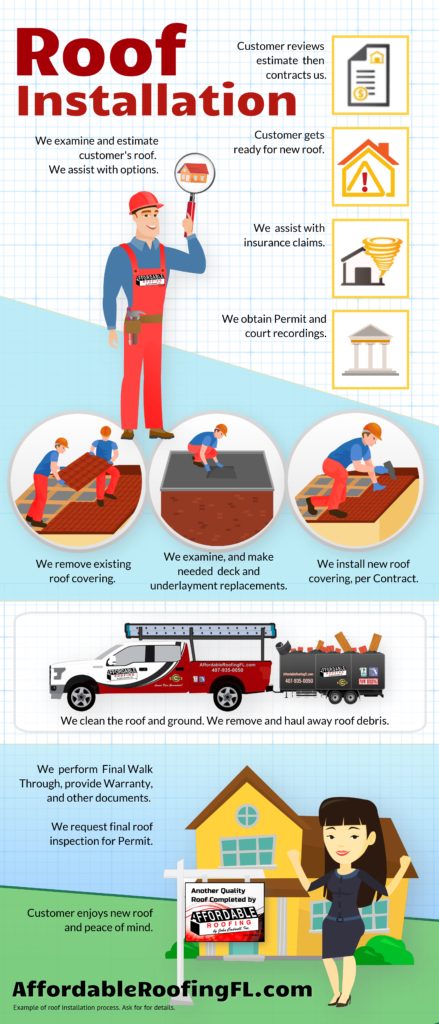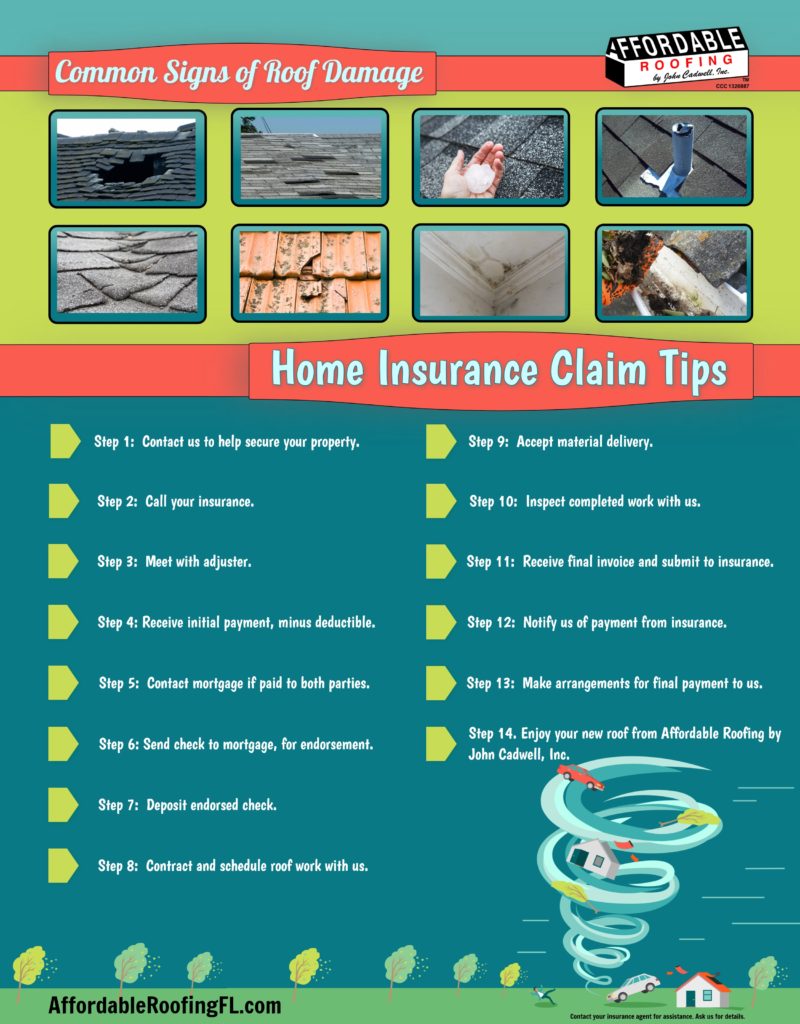 Dented and brusies on asphalt shingles
Damaged flashing, vents, gutters
Granules collecting gutters
As far as the insurance company is concerned, if you were aware of something that was slightly damaged and didn't take the necessary precautions to prevent further disrepair, they may not pay for it. If that small hole in the roof becomes a huge gaping tear that results in the destruction of your property, your homeowner's insurance claim can be denied on the basis of your negligence. Temporary repairs or coverings are also covered by insurance to protect your property from further loss or damage. Submit your receipt and/or photos to your homeowner's insurance company.
Don't wait! Report the possible loss; let the professionals determine the extent of the damage. Giving them notice of damages immediately will help your homeowner's insurance claim process more efficiently. If there's a flood in your home, do not - we repeat, do NOT - wait for the water to go down. Call your agent right away and ask just exactly what information about your circumstances your insurer will need to know.
To insure the scope includes all roofing damages and your needs are met at a "price agreeable" we will professionally represent you and meet with your adjuster, or if you have already had your adjuster inspect the property and confirm the damage we can contact your adjuster to confirm coverage.
Do not be surprised if your estimate and your loss summary report from your insurance carrier do not match. Your insurance company will provide you a check for the Actual Cost Value (ACV) or the depreciated cost of the roof minus the deductible. Ask your insurance agent for details specific to your policy. For roofs more than 10 years old, insurance may only provide reimbursement for the depreciated value, minus deductible, of your roof (ACV) not Replacement Cost Value (RCV). If your policy has Replacement Cost Value (RCV) you can submit a request for remaining funds disbursement upon completion of the job with a final invoice we will provide to you.
Advise them of your claim and inquire about their procedures for draft endorsement and contractor's affidavits, lien releases, etc. Be proactive.
Send check through priority mail to mortgage company. DO NOT endorse the check, send the check to your mortgage company and request their endorsement, first.
Once your insurance check is returned with the mortgage company endorsement you can then endorse and deposit it into your own bank account.
Review & schedule project. If deposit is not made, contact us to make arrangements for initial deposit, usually equal to your deductible. Review your Affordable Roofing contract terms for more information.
Verify the materials and color with your contractor. Provide any other required monies/deposits as per contract.
Inspect your project and do a final-walk through. Once the job is completed and you are 100% satisfied with the work, you will receive the final invoice.
Send your final invoice to your insurance company through priority mail. If instructed by insurance company, a request to file a betterment claim may be required with final invoice.
Upon receipt of payment please notify us so we can note it in your customer file. Endorsements may be required from one or more parties. If your insurance has issued the payment to Affordable Roofing, we will contact you to notify you of such payment.
Upon issuing the final payment to Affordable Roofing, you will receive all of your warranty papers and a paid invoice. We understand insurance claims are a process and must allow time for them to process payments to the homeowner; however, homeowners need to be proactive to ensure payment to Affordable Roofing is prompt to avoid possible late fees. See contract terms for details.
Secure all documents: Keep all documentation in a safe place and treat it as you would any warranty information. Enjoy your newly restored home and peace of mind!