Roof Certification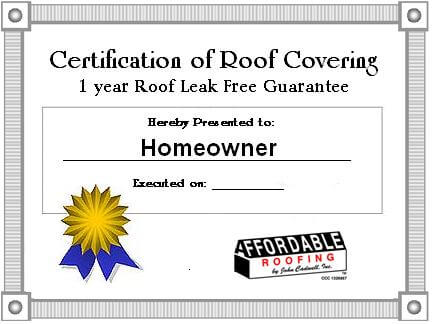 Roof Certification
Home inspections or roof exams don't come with a Leak Free Roof Guarantee but our elite Roof Certifications do!
We understand how hard it is to find a roofing contractor who can provide timely, consistent, and dependable inspections. Furthermore, they probably do not have formal service agreements to deliver quality results at an affordable price.
Affordable Roofing by John Cadwell, Inc.'s elite Roof Certification is a formal one-year Leak Free Roof warranty for the entire roof.
Roof Certification Benefits
Buyer agents
> Help minimize the buyer's risk
> Avoid complicated negotiations
Home Inspectors
> Referring protection provision
> Satisfy your E&O provision
Lenders
> Manage your risk
> Elite Roof Certification form
Title Companies/Escrow
> Bill to escrow
> Doesn't slow down closing
Insurance Companies
> Minimizes future risk
> Itemized scope of roof repairs
Roof Certification Process
Before issuing a Roof Certification we will perform a roof inspection of the roof condition.
Our inspector may notice some repairs are needed during the inspection. For that reason, we may need to make the necessary repairs in order to complete the Roof Certification.
As a result, the likelihood of leaks will be virtually eliminated. In the unlikely event of a roof leak we will make repairs to stop the leak for the entire roof*, for one year.
Request a Roof Certification
To find out if a Roof Certification is for you; contact us today, we would be happy to hear from you.
Roof Leak Free Certification Importance
The #1 problem not detected during a home inspection is related to the roof and water damage. Learn More
Affordable Roofing by John Cadwell, Inc. Roof Certifications; providing peace of mind to homeowners and professionals.
Currently our elite Roof Certifications are NOT available for commercial or industrial buildings. However, Roof Maintenance Agreements are available for commercial and industrial buildings.
*See actual agreement for details.