Learn more about what damages your roof.
Things that damage your roof can lead to expensive repair or replacement cost.
Affordable Roofing by John Cadwell, Inc. has provided a easy to view quick reference guide to help explain what are some of the most common things that can destroy your roofing system.
Learn more about what your roof's enemies, hover over or click each image on the guideline for more information…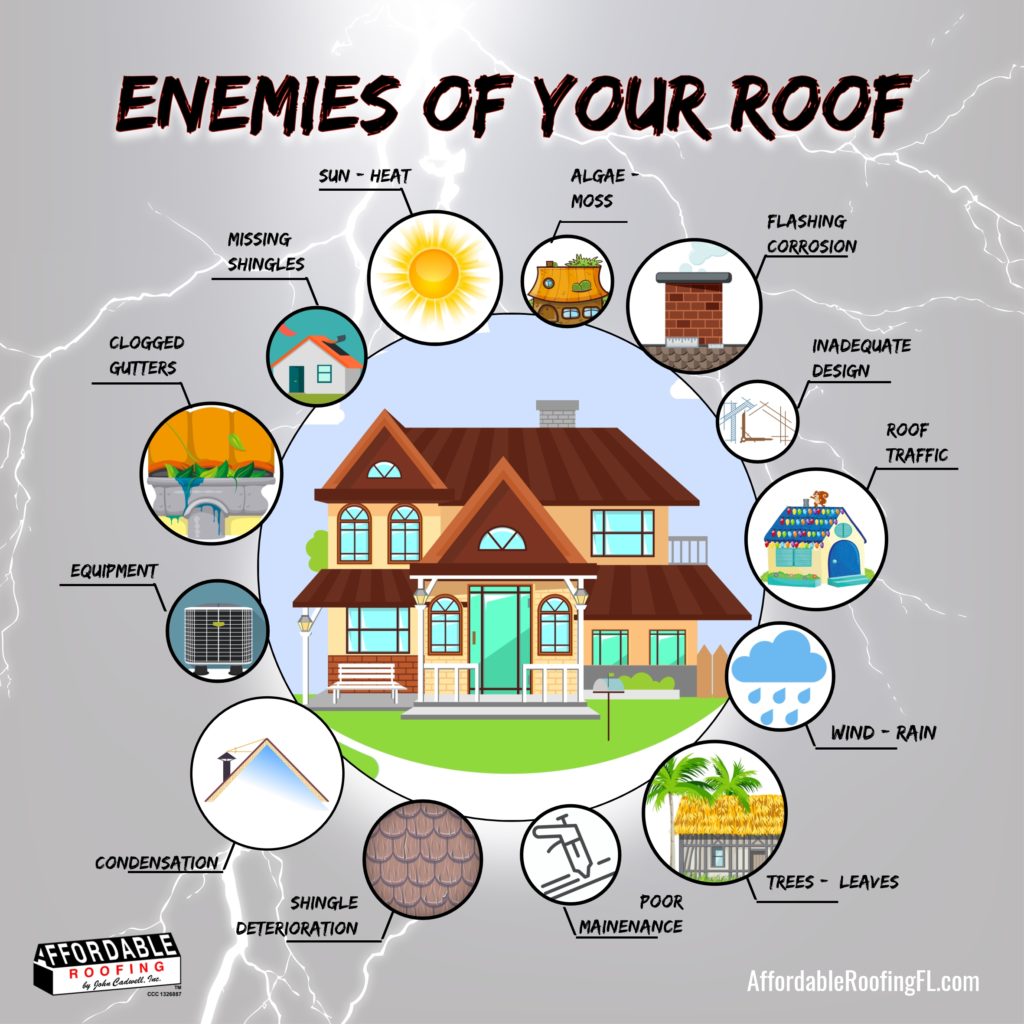 Sun/Heat - Ultraviolet rays and heat can cause roofing materials to become dry and brittle and deteriorate over time. Areas of the greatest concerns would be on the south and west side of the building where deterioration can occur faster.
Algae/Moss - Moss can grow on moist shingles and shakes. Algae also can grow in shaded, damp areas. Once it grows, moss or algae holds even more moisture to a roof system's surface, causing rot and deterioration in addition to a greenish-black stain. In addition, moss roots also can work their way into a wood deck and structure. Trees and shrubs should be trimmed away from homes and buildings to eliminate damp, shaded areas.
Flashing Corrosion - Many apparent roof leaks really are flashing leaks. Without good tight flashings around chimneys, vents, skylights and wall/roof junctions, water can enter a home or building and cause damage to walls, ceilings, insulation and electrical systems. Flashings should be checked as part of a biannual roof inspection maintenance program.
Inadequate Design - Although the roof design may be beautiful it does not mean it is functional. Troublesome and costly roofing problems are often the result of faulty initial design of the roof system. Water should always flow easily away from the roofing system. All downspouts should be diverted away from all roofs. Standing/Ponding water for any amount of time will without doubt cause damage. Make sure that your roof is always designed properly.
Roof Traffic - Squirrels have been known to cause severe damage to roofs along with other rodents and birds. We also have noticed that even though Christmas lights are very attractive, we never recommend putting them on your roof, it is important to keep the roof clear of all types of items. If you notice a problem with your roof we recommend you contact Affordable Roofing by John Cadwell, Inc., do not attempt to take care of it yourself.
Wind/Rain - High winds can lift shingles' edges or other roofing materials and force water and debris underneath them. Extremely high winds can cause extensive damage. Once water gets underneath shingles, shakes or other roofing materials, it can work its way to the roof deck and cause the roof structure to rot. Extra moisture encourages mildew, mold and rot elsewhere in a house.
Trees/Leaves - Tree branches touching a roof will scratch and gouge roofing materials when the branches are blown by the wind. Falling branches from overhanging trees can damage, or even puncture, shingles and other roofing materials. Leaves on a roof system's surface retain moisture and cause rot, and leaves in gutters can prevent drainage.
Poor maintenance - Roofs all need maintenance just like a car. Small isolated problems can cause your roof to have a shorter life span. Regular inspections can add to the life span of your roof. Problems left undetected or ignored will over time cause extensive and expensive repairs or even replacement. Recaulking and resealing yearly is also a key part of maintenance.
Shingle Deterioration - When shingles are old and worn out, they curl, split and lose their waterproofing effectiveness. Weakened shingles easily are blown off, torn or lifted by wind gusts. The result is structural rot and interior damage. A deteriorated roof system only gets worse with time-it should be replaced as soon as possible.
Condensation/Improper Ventilation - Condensation can result from the build-up of relatively warm, moisture-laden air. Moisture in a poorly ventilated attic promotes decay of wood sheathing and rafters, possibly destroying a roof structure. Enough attic ventilation can be achieved by installing larger or additional vents and will help alleviate problems because the attic air temperature will be closer to the outside air temperature.
Equipment - A/C units and other kinds of equipment that cause a vibration on roofs result in premature failure of roofing systems. All equipment should be maintained on a regular basis.
Clogged Gutters - Don't allow water to flow from roof as designed. Regular cleanings help ensure proper waterflow in gutters.
Missing or Damaged Shingles - The key to a roof system's effectiveness is complete protection. When shingles are missing or torn off, a roof structure then the building's interior become vulnerable to water damage and rot. Missing or loose shingles should be replaced as soon as possible.