Roof Tarping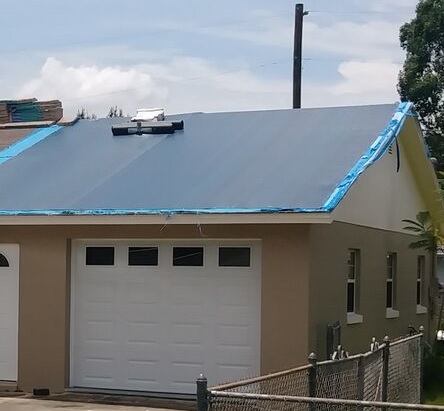 Emergency Roof Tarping in Florida
Following a hurricane or disaster, the essential next step in the recovery process is the stabilization of your property to help stop further damage to your home and belongings and to prepare to rebuild.
Treating homeowners and business owners fairly and honestly is our goal, but more so after a catastrophe situation, when others take advantage. Just be aware.
We offer several options to best fit your needs which does include same day emergency response. Tarping a damaged roof is an important action that preserves the option for rebuilding a property after a disaster. Consequently, without it, deterioration may continue pushing repair costs beyond what maybe affordable. Which again, creates another set of problems for not only your roofing situation but now your living situation and property and contents.
Roof Tarping Process
Affordable Roofing Roof Tarp services include:
> Your selected roof tarp size and quantity;
> Your selected time frame for tarp installation;
> Up to 10 photographs of your property;
> Estimates for any roof repairs or roof replacement you may need;
> If your insurance adjuster requests – we will remove the tarp for the adjuster inspection and replace that tarp, if requested within 30 days of original installation of the tarp. Check out these insurance claim tips.
> 30-Day workmanship warranty – if the tarp comes off within 30 days during normal weather conditions, we will reinstall it at no additional cost to you.
Quick Solution Due To:
Anything can happen to cause damage to your roof such as:
> Fire damage
> Water damage
> Hurricane damage
> Storm damage
> Vandalism
> Vehicle impact
> Fallen tree
> Breaking and entering
We can help with quick solutions:
> Branch removal
> Insurance claims
> Deciding on your options
> Stabilizing the interior
> Mitigating damages
> Protecting valuables
Select Your Emergency Tarp Request Here
An emergency roof tarp is just a temporary solution until more repairs can be made, but provides you with a little extra time and protection.
Select your roof tarp size and time frame by clicking the red button below.
Emergency Tarping Service – 
CURRENTLY NOT AVAILABLE DUE TO HIGH DEMAND
The Importance of Proper Emergency Tarping
If you don't take the necessary precautions to prevent further damage to your roof or home, insurance companies may not pay for it. So, if the forecast calls for more rain, be sure you take the proper precautions to prevent additional damage by getting your roof tarped. Therefore, possibly helping prevent any claim denial due to your negligence. Plus, it adds a layer of security for you, your roof, your home and your belongings until you can get it fixed properly.
Most importantly, keep in mind that all roof tarping jobs are done on a prepaid basis only. Emergency roof tarping does not qualify for a 3-Day Right to Cancel. NO REFUNDS will be available after payment is received. Prices are posted here Emergency Roof Tarp Request.
Time and work can commence one upon receipt of payment in full.
Furthermore, please contact your insurance company for more information prior to ordering a roof tarp. Above all, we are happy to assist in providing your insurance company with any photos and proof of payment.