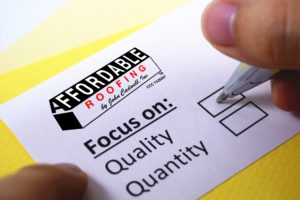 Affordable Roofing Customer Survey.
Help us to serve you better…
>  We would love to praise our staff when we exceed expectations,
>  We also would love to improve our operations when we do not.
To become BBB® Accredited Affordable Roofing by John Cadwell, Inc. affirms and will meet and abide by the following standards: Build Trust, Advertise Honestly, Tell the Truth, Be Transparent, Honor Promises, Be Responsive, Safeguard Privacy, and Embody Integrity.
We take pride in our A+ Rating with the BBB® and we don't want to disappoint our customers. Therefore, we will always try to go above and beyond. If we have disappointed you in anyway, please complete this roofing customer survey, so we can hear directly from you to resolve any issues and try to make it right. Our Goal is to have satisfied customers who will share their good experience with other home and business owners.