Emergency Roof Repair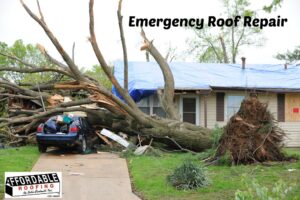 It'd be nice if your roof could send you a text letting you know that it'll need repair, but this is not the case, sadly. A lot of times, even the best homeowners will find themselves in need of emergency roof repair and feeling lost as to where to turn. While a roofing professional is always going to be the right choice, here are the best tips to get you through til they can arrive. Because, as you know, during a major storm, there are not enough professionals to help everyone at the same time.
Tarping and patching
If you've got damaged or missing shingles, it's a good idea to protect the now sensitive and vulnerable area by either patching the roof with some solid weather-resistant patch supplies, or even a classic tarp and 2×4 solution. The sooner you cover up the vulnerable spot the better but make sure you don't go up onto your roof until the storm has passed. If it looks too dangerous to go up there, it probably is.
In cases where you can't safely access your roof but you've got water and wind causing damage in your attic, patch and tarp your roof from the inside, taking extra care around the edges. This will help you to keep the damage as limited as possible.
Remove accessible debris
If you find your roof is damaged from something obvious like a tree limb or, you know, the entire tree, try to remove as much debris as possible to help cover up the damaged section. If you've got debris strewn across your roof, remember to never go up on your roof during a storm or even after the storm. Going up on the roof is always dangerous and debris can create unknown weakening as well as fall risks. Just get whatever is accessible and leave the rest to the professionals.
Temporarily cap your chimney
If you've discovered that your chimney is leaking thanks to a loose seal or a missing chunk due to a wind and rain storm, you'll want to temporary cap it off to make sure that you keep the damage outside of your home rather than somewhere inside (which gets expensive, fast). You can do this with an actual chimney cap, or go with a tarp.
Act fast
No matter what the problem is and what solution you use to fix it, remember that these are intended as temporary fixes for your roof. Unless you are a professional roofer yourself, you can only do so much to protect your roof before the roofing professionals can get there. Call in a roofer as soon as it is safe to do so, and then do your temporary fixes.
Remember that roofers often get the most calls in after a storm, so you may have to wait a while for them to get to you. Don't just assume they'll come as soon as possible, prompting you to simply leave the problem open to the elements until they do. Temporary fixes may be temporary and amateur at best, but they're still better than nothing!
While safety is key, putting a temporary fix to your roof can help you make the best case scenario out of your need for emergency roof repair.
Contact Affordable Roofing by John Cadwell for your emergency roofing needs or any questions related to same. We have two locations and are located in Kissimmee and Tavares, FL, however we are happy to service the surrounding areas. Contact us with any questions or concerns you may have. We offer residential and commercial roofing services as well as roof overs, new construction and more. Contact us at (407) 935-0050 now.