How to Avoid Getting Scammed by a Roofing Contractor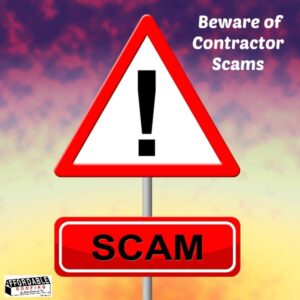 When you hire someone, it's normal to assume that they know what they're doing and are not a total farce out to take your money and run away. However, this kind of scam happens all the time and it's actually a common problem when people hire contractors! We want to make sure that this never happens to you as we are sure you are too. These tips will help you avoid getting scammed when you need your roof repaired!
Do your research
Knowledge is power, and with all the power of the internet right at your fingertips, you'll be able to "arm" yourself with research to hire the right pro. If you do your research, you'll be able to see how long they've been in business, what others have said about them, any competition they may have, and more. If you see anything sketchy, a deep search online can help you find it!
Get personal reviews/recommendations
Whether before or after you do your research, don't be afraid to get some recommendations from people that you trust to guide you in the right direction. Ask friends and family who they recommend for roofing contractors and why. They may direct you to who did heirs and maybe even give you your first choice or your worst, must-avoid choice!
Also, go online and take a look at reviews published for the contractors you're considering. Take the positive ones with a grain of salt and pay attention to those who are giving 1-3 stars — especially their reasons!
Check the BBB
The Better Business Bureau (BBB) is going to be great at helping you to determine whether or not the contractor you're considering is legitimate. The BBB offers warnings as well as easily accessible information on licenses, insurance, and all sorts of other details to give you the right support and assurance that someone is either good or bad for your project. Feel free to check our BBB rating and reviews.
Is their quote legitimate?
One thing you need to keep in mind, too, is their price. If they offer you a low ball offer that is lower than everyone else's, there may be a reason for it! You get what you pay for, so you want to make sure that you aren't short-changing yourself or your carefully saved budget! Also, make sure you get at least 2 or 3 quotes so that you have some to compare it to. All 3, if they're legitimate, should be around the same ballpark area. Get a free estimate from Affordable Roofing.
Trust your gut
Gut instinct is a powerful thing! After your research, your quote and your consultation with a contractor, if it still doesn't feel right — trust it! There are always going to be a few options in your area, so don't feel pressured to go with this person just because they check out in all other ways.
You deserve to spend your budget on a quality licensed roofing contractor that is going to do a good job, especially since your roof is kinda, you know, important for your home's integrity! Avoid getting scammed by using these tips to guide you towards the right choice.
Contact Affordable Roofing by John Cadwell for a free quote or with any roofing questions you have. We have our main location in Kissimmee but also another in Tavares so we surely can meet your roofing needs. Keep in mind that we offer a variety of roofing services. So check them out and let us know how we can help you, and your roof!