Buying A Home? Be Sure You Check Out the Roof!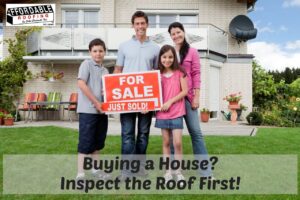 There's so much excitement around buying a home that it's easy to get caught up in it and miss a few important details about your home's actual needs. One of the commonly missed over areas? The roof! Who could blame you, right? It's waaaay up there and it's not like you're an expert roof contractor, after all. However, if you did find yourself in the housing market and you're looking for a way to protect your investment from every angle, don't forget to take a look at the roof.
Why is the roof important?
Okay, so you already know the obvious details such as the fact a roof is a vital part of your home in that it protects your home contents and your family and all of that. However, checking out the quality of the roof is also going to be a good indicator of how well the previous owner took care of the home itself. A roof is a specialized part of your home that can easily hide a lot of wear and tear to the naked, untrained eye.
The other factor is that the roof can easily get very expensive very fast. What looks pristine and perfect, even if it's 7 or 8 years old, could be leaking and need serious renovations or even replacement. That's going to be something you want to know ahead of a sale!
So, make the roof in the home inspection report of utmost importance and maybe consider getting a separate roof inspection. But here are a few things you can take a look at.
What to look for/at in your roof inspection
Take a look at the flashing
Flashing is used around openings such as chimneys and ventilation holes, and it can easily warp over time and allow water and pests into your home. If the flashing is worn, it's a sure sign that you've got at least a minor leak that needs attention, and you'll want to have the roof looked at in detail, too.
Check for signs of a leak
Inside, you can take a look in the attic/crawl space, as well as in the home itself for signs of a leak. For example, warped ceilings, black spots, or a musty smell. Any and all of these usually mean that there is a leak somewhere.
Mold and critters
Where a roof is weakened, mold, as well as pests and critters, can sneak in. Those problems can not only be a nightmare to have to fix — especially as cash-strapped new homeowners — but also challenging to do affordably when the damage is extensive.
Bottom line
When in doubt, bring in a roofing contractor for an extra inspection. Sure, it's an extra expense, but since repairing and replacing a roof (as well as repairing all of the damage that the previous one had done) is terrifyingly expensive too, it's always a good idea to know if you're dealing with any serious problems ahead of time and how they might impact the potential value and sale of the house. From there, you have the option to reduce the price or perhaps continue your search elsewhere!
While buying a house is exciting, doing your research and making sure that your home is a good investment is going to be worth your time, effort, and, of course, money. We all know that a house is a continuous expense of maintenance, replacing things and upkeep, but a roof is one of the more expensive items but also protects you and your family. So, gain peace of mind knowing that your roof will last more than a few years after the purchase of a new home. That way, you'll have more time to start saving for that major expense.
Affordable Roofing by John Cadwell is located in Kissimmee and Tavares and happy to help you out with any roofing questions or services you may need. Contact us here or call us at (407) 935-0050 today. We are happy to help you!