Signs Your Roof Is Leaking And Causing Potential Damage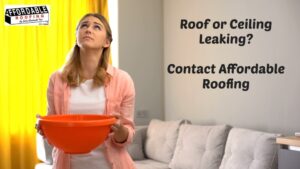 There's obviously never a good time for your roof to leak, but even so, the sooner you realize that it's happening, the better. Since roof leaks can cause a lot of expensive damage, you'll want to make sure that you know there's a problem before it gets too far! (Side note, regular roof maintenance is a good idea)
Signs that your roof is leaking
There are quite a few surprisingly "no big deal" signs that your roof is leaking, which is precisely why most people don't even realize it until the roof needs serious care and attention! Here are some of the best signs to watch for:
Ceiling stains
In your home's interior, you may notice small dark spots on the surface. Maybe they're circular, or not, and there might be more than one. Even if it seems like it isn't getting any worse, it's a sign that you've got a leak and it's "bad enough" to be leaking through to the finished ceiling.
Damaged or broken shingles
Exteriorly, you may notice that your shingles are either damaged, broken, or simply missing entirely. In a situation where there is any visible weakening of the roof's exterior, there's a good chance that you are going to already have a leak in your roof. Take it as a sign to get it checked out even if everything else looks fine!
Mold along roof joints
Either externally, or internally, you may notice mold and growth along the joints between the roof and the walls as well as the rafters, headers, etc. Since these are joint places and often weak links, any kind of growth here is going to be a sign that you've got a leak somewhere and it's now spreading to weaken further these parts of your home. If it's at more than one, too this is another sign.
What's that smell?
In this case, you'd most likely notice the smell in your attic crawl space, unfinished or finished. If there's a musty, damp smell no matter what's going on with the weather outside, you most likely have some kind of leak that is creating that moisture and damp smell. While this isn't exactly a reason for concern, you should use these other tips to help you find the source of the smell. If it's just a forgotten-about musty carpet, for instance. That's fine. But if it's an issue with the roof's security, the smell will help guide you to it!
What to do when you notice a problem
If any of these sound familiar and you need some support, remember what we said first. Get someone in sooner rather than later so that you can fix whatever damage is there before it gets worse!
Make sure, of course, that you always get a licensed roofer in, to both assess the situation and put a quote and plan together to fix any issue. This helps protect our safety, investment, time, and money in the long term.
To protect everything and everyone in your home, use these tips to help you gauge the situation and then call in the right reinforcements to make it a worry of the past!
Should you have any further questions, contact Affordable Roofing by John Cadwell at (407) 935-0050 in Kissimmee or Tavares Florida to help with your roofing needs – commercial or personal.