Essential Questions to Ask When Hiring a Roofer in Florida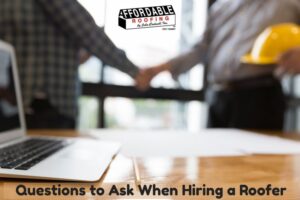 If you're looking at hiring a professional roofing company in Florida, there are certain things that you're going to have to know upfront in order to help you make the right decision. These questions will help you sort out who's the professional that they say they are and who isn't.
Top questions when looking at hiring a roofer in Florida
If you want to hire a quality roofing company in Florida, here are some of the most important questions that you'll want to ask.
What licenses do you have?
You should know what kind of licenses to expect (at least one or two). Most will have it all written down on some sort of resume or business card so that you can see them all. Some may have it on the footer or a about page of their website, which isn't a bad thing to check out while you are there. It's a normal question, and you should be able to get an answer immediately. If not, run away!
Do you have insurance?
The only acceptable answer to this is "yes." They should also fill you in a bit on what it covers and what it doesn't, though this will depend on the professional and their approach to working with you. I mean, after all, you will have their employees walking around on your roof and while their negligence isn't your fault, you want to be sure they are covered while on your roof.
Do you have testimonials?
While it's always a tough question to ask someone, it's important. It's also very common, and your potential roofer should have no issues letting you know where you can find them to take a look at yourself. Make sure you follow up on this, too, so that you can be aware of any red flags. For example, we have a page on our website that directs you to reviews on BBB & Google!
What warranties do you have?
Any professional and quality roofing contractor is going to offer some sort of warranty on work and labor as well as materials, so make sure that you know what it is. Ask questions about what it includes and what it doesn't so that you can know what to expect. Affordable Roofing offers product warrant & workmanship warranty that you can review.
How does your crew & process work?
For this question, in particular, you can make it a bit more specific if you want. For example, ask questions about the process of the work. Get a feeling for whether there is a foreman or if they do all of the supervising themselves. The goal for this question is to get a proper understanding of what you can expect when it comes to the professionalism of the team and then the schedule/timeline and process.
Professionalism matters
Roofing is never cheap, so you deserve to know that you are trusting the right professional with your hard-earned cash. These questions will help you do that and also make sure that they know just how careful you are going to be when it comes to doing your due diligence. With many, this even brings more respect into the relationship, so it's really something to think about from that point of view, too.
While this isn't a full list, these questions are going to help you sort out the good from the bad, especially when it comes to professionalism. That's the goal, and it's one that you absolutely will want to take seriously. These questions take off the pressure for you in a lot of ways since they'll quickly sort out the professionals from those that are just looking to put their hand out.
Contact Affordable Roofing by John Cadwell at (407) 935-0050 to get your free quote or to get started helping you with your roof. We offer a variety of roofing services such as tarping, emergency repair, roof reports, maintenance, cleaning, new roofs and new construction. Let us know how we can help you and your roof!