Roof Maintenance Tips for a Longer Roof Life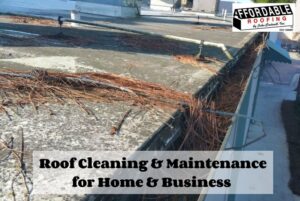 If you're ready to roll up your sleeves and do what you can to maintain your roof, you'll actually find that it is easier than you thought to give your roof a few extra years. The more regular maintenance that you do, the longer it will be able to hold up and save you from a costly replacement or large repair. Of course, if you don't want to be bothered, Affordable Roofing can do your roof cleaning and roof maintenance for you.
Though this is not a full list, the best tasks to do to preserve your roof include the following:
Check for wear or weakness in sealant
The sealant on your roof is what helps keep the weather out. Over time, especially if you have loose shingles or a particularly bad wind storm (which we are prone to), your sealant can become vulnerable and the sooner you find that out, the better.
Keep an eye on any iffy shingles
Shingles wear and tear over time and can easily be replaced by licensed roofing professionals. Take a look at worn shingles, loose shingles, bubbling shingles or simply missing shingles. Anything out of the ordinary should be switched out for a new one.
Clean your gutters
When gutters clog, they deposit run-off and the debris on your roof which will prematurely wear it out. If you keep your gutters clean and clear, your roof will not have to take any extra strain.
Get annual inspections (inside and outside)
The best way to see how your roof is doing is to, you know, check it out. Both inside the attic and out on your roof, get regular inspections done before or after hurricane season. This will alert you to any potential weaknesses or problems soon after they appear. Again, the sooner you notice a problem, the better it is for your pocketbook.
Remove leaves, moss and algae
Anything on your roof is going to create premature wear. This could be leaves, twigs, moss, algae and more. Whatever the issue is as far as greenery on your roof, get it off and allow the shingles to do their job. This should be done by hiring a professional.
Evict any pests you see
While some pests may be cute and you may like the thought of giving them a home on your roof, don't. Pests do a lot of damage very quickly and it will mean that you need to do a lot more spending to recover from it. You can hire professionals to come in and humanely relocate the pests to a much better-suited place to live.
Maintenance reminders
You have a lot on your plate and you may not have time to do all of this. Or perhaps you want to make sure that you are focusing on the right things. From regular maintenance to a survey to an assessed and even repairs, we can help. With over 23 years of experience, we will be able to determine any potential problems and risks and do what we can to make your roof lifetime be as long as possible and protect your home.
Contact Affordable Roofing by John Cadwell in the Kissimmee and Tavares, FL area for your roofing needs. We offer residential and commercial roofing services and provide roofing services such as emergency roof tarping, roof reports and repairs, roof overs, roof restoration, new construction and more. Contact us at (407) 935-0050 today.