How Bad Weather and Storms Damage or Impact Your Roof's Life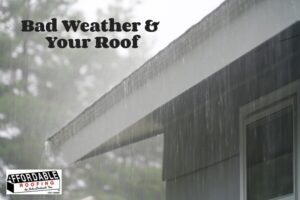 Your roof is what protects you and your family, and the rest of your home, from the outside weather. You know this, just like you know that having good quality roofing materials is going to make the difference between your roof, your home and your family being protected or not. However, it's important to keep in mind that weather can weaken even the best roofing materials and can cause damage.
Potential damage from weather & storms
Wind and rain damage
Wind and rain are common in all climates and throughout various times of the year. Florida, being in hurricane alley, is especially aware of rain and wind, and a lot of it. Serious wind and rain can cause a lot of damage to your roof and its structure in a short period. Weather is a force to be reckoned with, so you will want to ensure your roof can protect your house, and thus your family.
Note, that it can damage a tiny part of your roof, and that tiny little bit of damage can put your entire roof at risk because your roof is only going to be a strong as its weakest link, or shingle. That weak link can quickly cause structural damage without you even knowing or seeing it.
Sun damage
Even if you have a bunch of bright, sunny days, this can further weaken your roof's structure. Bad storms interspersed with bright, glaring sunshine can weaken roofing materials by prematurely bleaching them and drying them out. The more brittle they are, the more prone they are to breakage and wear and tear, causing you to have to replace them much faster.
Structural damage leads to water leaks
As mentioned above, storms and the sun cause damage to your roofing materials. All of this is going to lead to openings for water and other elements to sneak into your roof's structure. These will weaken your structure quickly and can lead to some expensive damage in the short or long run.
The best materials can only hold up so long to Mother Nature and the powerful storms that pass through the Florida coast, after all.
The key: proper professional consultation
So, how do you stop that from being your problem? By working with a licensed professional roofer. They will be able to use top-quality materials and installation, of course, but can also warranties, consultations and inspections of your roof after major storms to check for any signs of damage or weakening. This can help you detect a problem before it becomes a major and expensive one.
You have spent a lot of money on your roof, and you expect it to properly protect your home from the elements. However, you also have to make sure that you've got trained, professional eyes watching over your investment. The more attention you pay it by keeping up with the maintenance of your roof, the longer your roof will last, and continue to be the worthwhile investment that you expect it to be!
While no one can do anything to predict the weather or its powerful storms, you can certainly do your part to ensure that your roof's lifespan and quality aren't destroyed by not taking the weather and its storms into consideration.
Professional support will offer you the protection and peace of mind that you deserve for a weather-ready roof that you can trust. Focus on all of the right details so that you can weather the storm safely! You can do so by contacting Affordable Roofing at (407) 935-0050 with any roofing concerns or questions you may have and work to keep your family and home protected by your roof.
Reminder, we always offer free quotes for all of our roofing services and come to you with decades of experience in the roofing industry, right here in Florida. We have 2 convenience locations – Kissimmee and Tavares but work in the major surrounding areas. Contact us today.